During my tenure at Jadecliff/Marldon Christmas Tree Farm I've designed or had a hand in designing numerous products, labels, signs and banners. This post will basically be a photodump with a brief description for each item, so enjoy!
My Little Tree (2014)
Launched for Christmas 2014, My Little Tree is a 30-40cm pot grown Norway Spruce tree with one of a range of label designs. The original concept was to make this a gift idea by creating covers such as "Baby Boy/Girl's First Christmas" and "First Christmas in our New Home", as well as some generally festive designs.
These were all created in Adobe Illustrator with sprinklings of Photoshop here and there, but bitmap images were vectorized where possible with the always excellent Vector Magic to maintain quality for printing.
I've included the full set of designs that were put into production in 2014 below.

Signage 2014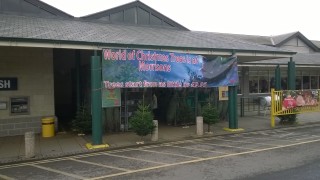 For Christmas 2014 the company was operating a wide range of retail sites – from the stalwarts like Marldon, to new popup store outside Morrisons branches (image 1 above is Morrisons in Newquay) and other existing retail locations (image 2 is Darts Farm, Topsham). Numerous banners and signs were produced ranging from A3 to over 6m in length.
Jadecliff tree labels 2015
Miscellaneous marketing materials for Jadecliff and Marldon Christmas Trees